Plastic Product Mold Design
TERA Design Team help ensure your product can be manufactured. Our experienced teams of engineers are experts in mold design and use the latest engineering tools and software to help you construct a quality plastic part. This allows our tooling engineers to create the best possible and cost effective mold for your project requirements. We can review your mold design, 3D files, or part drawings and provide feedback on possible quality issues or areas in need of improvement.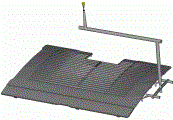 Plastics Engineering & Design
TERA's Engineering and Design Team is at the foundation of what TERA does best: finding innovative and creative solutions to help speed customers' injection molded products to market.
The team uses project management fundaments through out the design process to document customer specific requirements and integrate them into the mold product design.
Using parametric fundamentals of design, the team creates tool design models that have complete associativity throughout all of the different components of an assembly. This means that both major and minor changes to a product can be made and reviewed with the customer through all stages of design and build of a precision injection mold. Design changes are communicated electronically in real time to the machine programmers who are shaping the steel and can be communicated to customers via on-line web and video conferencing.
TERA's Engineers routinely recommend solutions to customers that can increase product performance, product lifecycle, reliability, and profitability both for TERA and for the customer.
Moldflow Anaylsis
TERA's design specialists use mold simulation software to optimize the product design and manufacturing process and perfect it, before the first piece of steel is cut. This process reduces the time needed to condition the mold and speeds the product to market.
Send files for quotation today to see how we can engineer your next injection molded product for top performance and efficiency.
Design Flow:
Request for quote.
Quotation.
Receipt of order.
Customer data, information (Sample,Sketch,Drawing Ref).
Idea development.
Communicate with customers.
3D appearance design.
(Reverse enginering).
Reviewing & Verification.
Structure design.
Rapid prototyping (CNC mockup).
Delivery.
Communicate with customers.
Modification or rework .
Delivery.
Customer satisfaction.
Product design finish.
Mold structure design.
Moldflow analysis.
Check & Review
Mold details drawings (2D/3D, assemble drawings, part drawings)
Mold production.
To manufacturing flow.